7 Social Media Tips for Small Business Success
The biggest failures small businesses encounter in social media come from not knowing who their customers are, who they're competing against, which channels to target, and how to engage their audience. Most are unaware of native analytics available in all major social networks and don't know how to integrate their online and offline marketing activities or how to automate their social scheduling.
Remember that having competitors who target the same people is great because you can always check what worked for them and what didn't, and use this knowledge to adjust your own strategy.
My advice is to start with the big fish. These guys are doing something right to get the kind of follower count and engagement they have, so why not learn from them? There are a few ways of doing this.
Use Facebook's Pages to identify your best-performing competitors and compare their activity, engagement, and audience growth to your own. You can see exactly what content they're posting, how often, and at what time of day they're posting. Remember to not only look at follower count but total engagement: it will tell you how their followers are interacting with the content. Brands with high engagement rates are typically the ones to watch.
Not entirely sure who your competitors are? That's ok. There are tools out there that can help you find the competitors you might not have been aware of. For example, with SEMrush's Competitive Positioning Map all you need to do is to enter your URL, and the tool will automatically compile data showing you your top competitors, how much traffic they're getting and the keywords they're ranking for:
Pay special attention to the bubbles located above you and to your right. They represent the competitors whose total traffic exceeds yours and who are ranking for more keywords than you are.
This report will give you a good idea of who has a strong online presence, and who is investing heavily in marketing. Brands investing in marketing and getting plenty of traffic typically have strong social presences, so they'll be good ones to check out.
If you need more advanced social media competitive analytics, tools like Rival IQ, SproutSocial, Klear, or SEMrush can provide them. They will help you track your competitors' social pages to see how their posts perform, how much engagement they receive, which hashtags they use, and what special offers and competitions they're running on social.
Tip #2: Pick the Right Channel to Target
If you are starting your social media journey from scratch, it's advisable that you pull together a survey and ask your customers which social media channels they prefer or use the most.
If you're already active on social media channels, check their efficiency. Compare the size of your audience across different channels, your engagement, and engagement rate metrics. For example, the overview report in Social Media Tracker shown below will give you an idea of which channels are worth putting effort into:
Another way to pick the right target channel is to analyze your competitors' activity. Check which channels they put their energies into, and start targeting them too: your chances of getting noticed by the relevant audience will double.
Bonus Tip: Be ruthless in getting rid of some of your accounts and prioritize your social media marketing capabilities. Not ready to make videos? Skip YouTube. Don't have time for blog writing? Leave it for now and concentrate on one or two channels.
Define Your Business Social Media Marketing Goals
Defining your social media marketing goals and objectives is the first step in enhancing your brand awareness. Ensure that you set appropriate and achievable goals when starting your social media marketing. Experts advise that you consider the SMART goal framework when breaking down the achievement you want from your online strategy. The goals or objectives you choose for your small business must be specific, measurable, timely, attainable, and relevant. Having clear and timely goals for your business makes it easy to plan and execute different social media strategies, track the progress and make wise decisions.
Committing to social media is the essential thing that any entrepreneur or small business must do to enhance successful marketing. Like other marketing alternatives, you might find it challenging to create good content, grow your audience or increase engagement when using social media marketing. Therefore, it'd be appropriate to commit to the marketing option by consistently creating great and attractive content. It'll also be good to have a plan and goals, which you must follow to enhance your brand awareness through social media.
Reveal Your Personality and Identity
Revealing your identity and personality on these platforms is an integral way of enhancing the success of your brand. Creating a significant social media presence will be good when choosing the social media marketing alternative. A great social media presence attracts more followers to read your content or your brand's website, leading to prospective customers and generating more sales. Therefore, after getting online, it'll be necessary to show the value of your services or products and also enhance connections.
Experts reveal that most entrepreneurs build great social marketing platforms and programs by listening more to the customers. Instead of promoting your small business on various social media platforms, you must consider listening to customers' views and opinions. Preferably, use social media to interact with your customers or prospective clients. The interaction and engagement allow the customers to provide their views or issues on your brand. Working on the customer's concerns will be essential to establishing the best ideas to suit their needs.
8 Tips to Quickly Master Social Media for Businesses and Entrepreneurs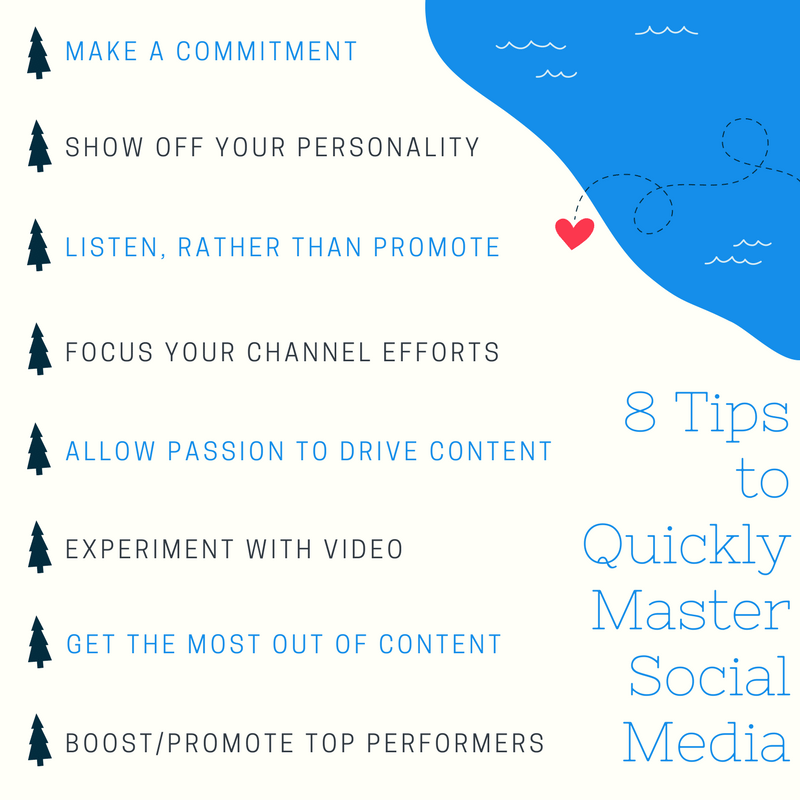 1. Make a commitment to social media
Like any other form of marketing, social media for businesses can be a real challenge. It's hard to grow an audience, create great content, and increase engagement. All too often we see brands giving up on social media after just a few months.
We've found that it takes eight months to one year to really get the hang of social. Not only to get a consistent content stream going, but to figure out what your audience resonates with and what they don't.
It all starts with planning. Create a social media strategy and write it down in order to hold your business accountable. Your strategy should include a basic company mission statement, content plan and goals. And most importantly, a powerful statement on "why" people would follow you on social media, what kind of content you plan on creating and posting, and what you hope to achieve.
2. Show off your personality
Creating a great social media presence isn't only about showing the value of your product or service to your audience. It's about connection and experiences. The best brands out there share a common point of view with their fans.
3. Listen to customers rather than promote
Social media is becoming a customer service platform and people are coming to expect it. The tricky part is, the better you get at social the more engagement you'll get, and in turn, the more comments. So be prepared for an influx of love from your fans!
The other side is that your customers are the best source of inspiration for content. Lots of businesses are sitting on a never-ending gold mine of content ideas by simply looking at their frequently asked questions, or what people are asking on social media. If you're stuck on what to post, look to your customers first for ideas before anything else.
You can also listen to competitor's customers as well, as funny as that sounds. Tools like Twitter Lists, BuzzSumo, Facebook Pages to Watch, Google Keyword Planner, and YouTube are all great places to find what's working in your industry.
4. Focus your efforts on a select networks
Social media networks are like shiny new objects. We want to be everywhere at once and try everything because we're sure that this network will be the one for us. But the fact is we're all strapped for resources. So if you try to focus on lots of social networks then you're setting yourself up for a long road ahead.
We tried! At one time we were everywhere. We were on all of the standard networks along with lesser-known networks like Anchor, Beme, Tumblr, and Whale. What we found was that we were getting average results across the board. Not to mention it was taking full days to post content to each platform. It wasn't sustainable.
For example, let's say we write a blog post about social media marketing. Writing the copy that will get attention and clicks on LinkedIn is much different than what works on Facebook, which is dramatically different than what works on Instagram, Snapchat, or Twitter.
5. Remember that success follows passion
The only way to ensure long term commitment and that social media doesn't become a burden is to follow your passion. The nice thing about social media is that your content doesn't have to be directly related to your brand or industry. Meaning it doesn't have to be what everyone else is doing.
6. Experiment with video marketing
Many marketers tell us that they struggle with "what" to create video about. The best solution we have for you when it comes to "what" is to start with what works. Sort your blog content in order of most traffic and create videos around those topics.
Again, use Facebook Pages to Watch to figure out what kinds of videos your competitors are making and generate topic ideas based off of that. Use your customers as resources. Look outside of your specific industry to your favorite brands. The key is to start with what works and gain some confidence.
In terms of video best-practices, there are some scientific factors that people are more likely to interact with. One is video length. On Facebook, for example, the highest engaging videos are between 60-90 seconds. The second highest are between 30-60 seconds. Same holds true for Twitter. So keep your videos short and to the point. Save the best for first, if you will.
If you're going to feature a person (or group of people) in your video, you'll need a good lavalier microphone, natural light from a window, and a tripod. Sound, lighting, and camera stability are key in creating a quality video.
Sources:
https://blog.marketo.com/2019/01/7-social-media-tips-for-small-business-success.html
https://socialwebsuite.com/blog/20-tips-to-master-social-media-in-2022-for-small-business/
https://buffer.com/resources/social-media-for-businesses/