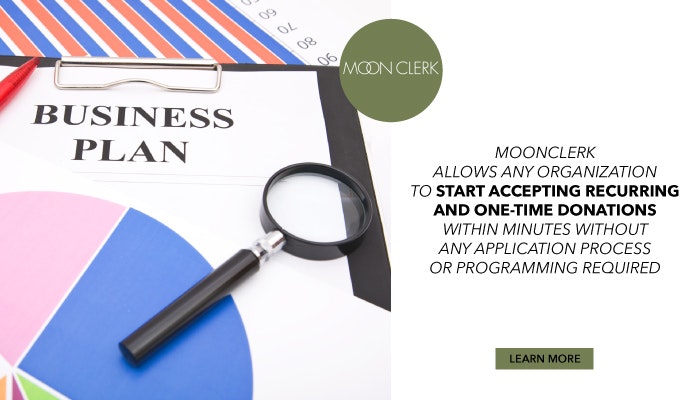 What is a business plan?
Before we get into the details of how to write a business plan, let's define what it is. A business plan details the services or products your non-profit provides, the people on your team, the community you serve, your non-profit's financials, the goals you plan to achieve, and how you're going to achieve them.
"But my non-profit doesn't sell anything!" you might object. While that may be true if you rely strictly on grants or donations, non-profits can and do sell goods and services. And a non-profit is still considered a type of business. Here's how Investopedia defines a business:
"An organization or enterprising entity engaged in commercial, industrial, or professional activities. Businesses can be for-profit entities or non-profit organizations that operate to fulfill a charitable mission or further a social cause."
Executive Summary
You can draft this up first, but it should be the last thing you work on. This is the most important part of your business plan. Here you must summarize, on one page, every critical aspect of your nonprofit. This summary will determine if someone, be it an investor or potential staff member, will continue reading.
If your nonprofit organization has a significant list of achievements and needs a dedicated space for them, this is the place to do it. At its best, this section will demonstrate how past goals were met on-time. It can also show real examples of how funding challenges were met or goals were exceeded. This should go directly after your Executive Summary.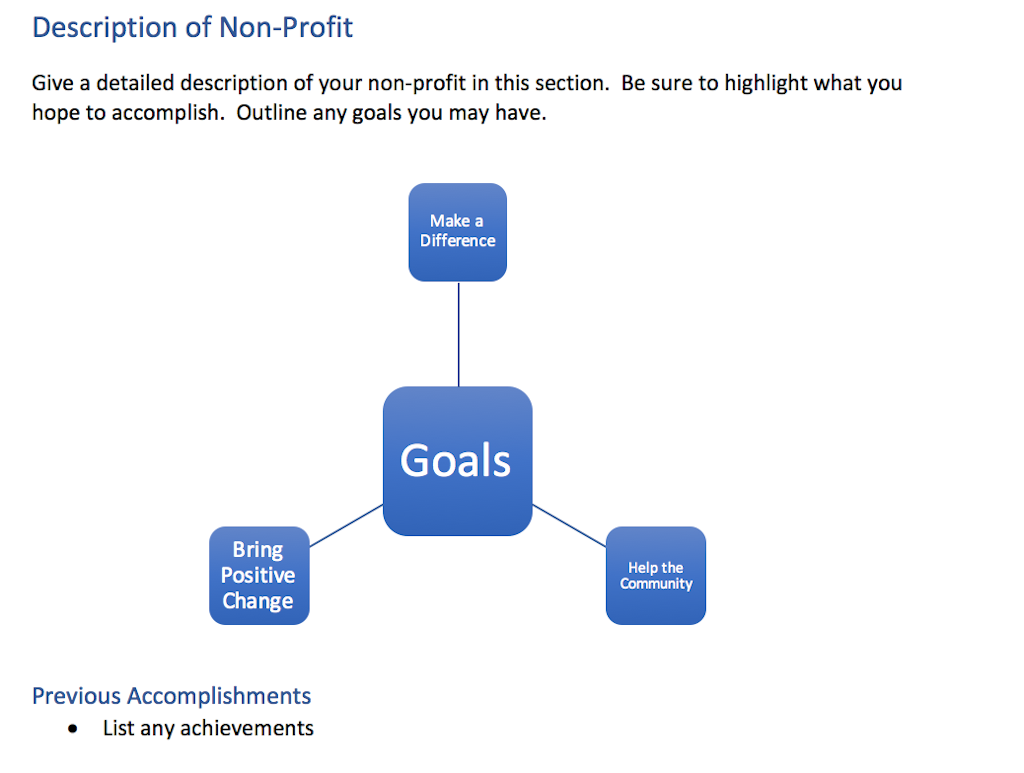 What Should You Include in a Nonprofit Business Plan?
1. Executive Summary. The Executive Summary is the first thing that any potential partner or supporter will read, and it introduces the mission and purpose of your nonprofit.
You can customize this section of your business plan depending on your purpose in sending it out. For example, the Executive Summary might have a very different focus if you are trying to recruit an expert in your service sector to the Board versus applying for a small business loan to open a gift shop.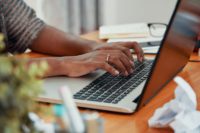 2. Organizational Structure. This section should identify the type of nonprofit organization that you have and how you're set up.
For instance, if your nonprofit is a 501(c)(3), you will list that in this section. (There are other types of nonprofit organizations such as fraternal beneficiary organizations, or horticulture, labor, and agricultural organizations that are structured as nonprofits as well…so be clear here.).
Also, talk about whether you have employees or are all-volunteer. Do you have (or will have) a facility? Paint a picture of your organizational structure so the reader can understand quickly what your nonprofit looks like from an operational point of view.
If yours is an established organization, you can discuss how you started your nonprofit and the milestones you have reached. Listing previous successes and accomplishments in this section can be convincing for potential partners and reassure them that you will use their funding efficiently.
If your nonprofit is just getting started, explain your vision and why you are creating your organization. Focus on the problems you see and the practical ways you intend to alleviate those problems.
For example, if you run a homeless shelter, you should mention the number of people who are homeless on any given night in your area. Talk about the number of beds you have, the number of beds you are planning on for the coming year, and exactly what services you provide in addition to shelter.
If your shelter offers wrap-around services or plays a key role in connecting those you service to other vital services, talk about those too. Do your beneficiaries have access to medical care once a month? Does your organization provide a meal? Do you have volunteer tutors who can help students who are homeless with their work? Note who carries out your programs and services and whether you use mostly volunteers or whether you have paid staff in place.
Also, talk about any other nonprofits who are addressing the same need and how your services are/will be different. Donors don't like duplication of services, and getting grants will be tough if you can't articulate how your approach is unique.
4. Marketing Plan. Your marketing plan should describe the specific target audiences you want to reach for both programs and fundraising, key messages you'll use, and which methods or vehicles you'll use to reach the right people.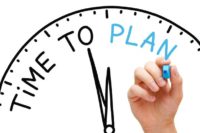 5. Operational Plan. This section should describe both day-to-day operations and long-term plans for operating your programs.
What do you and your staff do every day to run programs and provide services? Be specific. How much does a single unit of service cost per person? Who delivers the service? Where and how?
Note expanded services. If you are planning on growing or expanding your services what would that mean in terms of operations? For instance, if you run a food bank and you are actively planning to double the number of people you feed in the next year, how will that affect operations? Will you need more refrigerators? More trucks? More staff or volunteers? Will you expand hours? Be ready to share in the Financial section how this growth will impact your budget, both in revenue and expenses.
If you haven't spent time making long-term plans, this is a good time to sit down with Board members and staff and think about it in detail! Decide if you'll start the program or secure funding first (there's a big difference!).
Evaluation is critical to determine your effectiveness as a nonprofit — and particularly important for grants. How can you tell if a program is providing the benefit that you are promising? Potential donors and grantors will want to know how you will make sure that funds are used to their highest potential and that you are flexible enough to change if need be.
You should also talk about methods in place to evaluate various aspects of your nonprofit to make sure you're getting a good return on investment for the time, energy, and resources you put into each area of operations.
Sources:

https://www.moonclerk.com/how-to-write-a-nonprofit-business-plan/